Main Takeaways
MetaMetals already offers support for Web3, which means that customers can use native browser wallets like MetaMask or Rabby wallet for payments. At the moment Ethereum is accepted as a currency.
Intro
The Meta in MetaMetals isn't a homage to a famous big tech company, which actually rebranded themselves after the word meta/metaverse had already been a known term for millions of crypto users. "MetaMetals" as a term should clarify the we combine our precious metals with a Web3 approach to bring huge benefits to our customers. The following tutorial shows how payments can be done.
Web3 - How to
But what does it mean and how can it be handled on the MetaMetals website? Well at first we'd recommend users to get familiar with crypto and especially with handling on-chain transactions.
If you are not familiar with MetaMask and or crypto we don't really recommend you to use our features. Please get more knowledge of sources like the one linked in the bottom of this blog post. We also highly recommend the usage of hardware wallets for bigger payments. The risk of getting one's funds drawn by phishing gets smaller if you have an extra security device and more time to actually think of what you're signing.

Security
On-chain transactions demand the ability to verify the destination address.
ENS: metametals.eth
Our wallet can be clearly identified on Etherscan. We have got an ENS + a public name tag which links to our Website. Always check the full address before you finally trigger an on-chain transaction.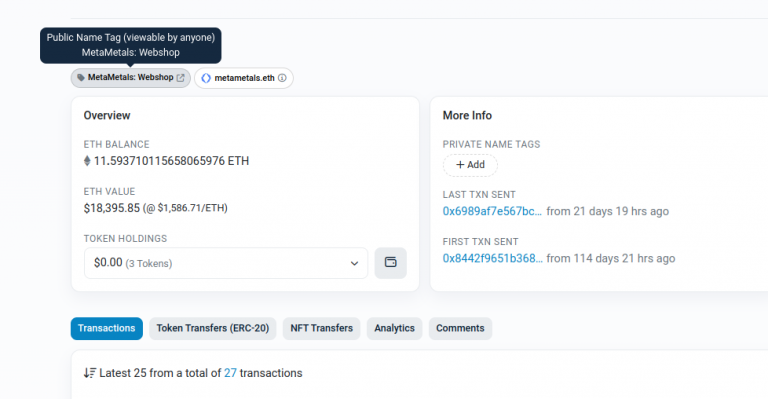 Disclaimer:
On-Chain crypto usage demands experience and knowledge. If you're not familiar with this technology, we don't recommend using it. Crypto prices fluctuate which means that funds may increase or sink in valuation after purchasing. Every user has to handle that on their own. We're not financial advisors and people should seek independent professional advice regarding finance. Inproper handling of crypto opens up security flaws, which might lead to loss. We're not responsible for users on-chain transactions.
Coinbureau
Coinbureau - MetaMask beginner's guide
Crypto Dad
Crypto Dad - MetaMask Tutorial
Crypto Dad - Ledger + Metamask
Crypto Tips